About Us: More About Our Church
Who We Are
We are a mission oriented church, prayerfully and financially supporting missions through the International Mission Board and North American Mission Board. We are a friendly church that will support and encourage you through good times and bad. We provide a variety of ministry opportunities to children, youth, young adults, adults, and seniors. We believe that the Bible is the inerrant word of God, that Jesus Christ is the only begotten Son of God who is Lord and Savior, and that no one comes to the Father but by Him. We are members of the Southern Baptist Conservatives of Virginia and the Southern Baptist Convention.
Church History
The History of Pecks Baptist Church, Founded in 1895
Pecks Baptist Church was built between July and October 1895 when residents John B. Gardner and A. C. Parker noted a need for a church in their community. The church was named after Thomas Peck from Grand Rapids, Michigan. John Gardner had formed a friendship with Peck after meeting him at Gettysburg, Pennsylvania in 1888. From that friendship came support from Peck in building the new church. Years earlier, the two men had been swept up in the fury of the Civil War. Ironically, Peck had been a Union soldier while Gardner served as a soldier in the Confederate Army with the 58th Virginia Infantry. Peck generously provided a strong foundation for a church steeped in Christian values.
The church in the beginning encountered financial difficulties between 1895 and 1912. On cold mornings the congregation huddled around two potbelly stoves to keep warm. The Sunday School rooms in the sanctuary were divided off by bed sheets. The first pastor, John Thomas Kincanon, received a salary of forty dollars a year. He faithfully served the church for 17 years.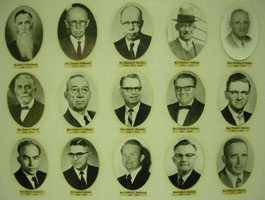 In 1912, Pecks welcomed a new pastor, Horace Wilkerson. Wilkerson was principal of Moneta High School when it opened in 1909 and served as bookkeeper for the weekly newspaper, the Bedford Democrat. In 1916, the Reverend Thomas Hawkins was accepted as pastor of Pecks. He devoted his life to mission work. After leaving Pecks, he and his wife moved to Argentina where he spent the next forty-one years in mission work.
Other pastors included the Reverend Henry L. Thomas who was elected pastor at a salary of one hundred dollars a year in 1917. Thomas was born in 1878 in Bedford County. Pastor Mathias Briggs Major, Sr. began preaching at Pecks in 1922 and remained with the church for five years.
In 1929, James L. Poteet became the pastor of Pecks. Until the purchase of a new Ford, the Reverend relied on his trusty riding horse for travel. In September 1936, the Reverend took ill and passed away at the age of seventy-six.
During the next few decades, a number of other pastors faithfully served at Pecks. The Reverend Luther C. Coffman was pastor from 1937-1949. In 1949, John B. Thurman, a native of Bedford County, served as pastor for two years. The Reverend Charlie Mercer Shelton served for three years from 1951-1954. Reverend Tearle Preston Brown served from 1954-1957 and was replaced by Pastor John Francis Layton, Jr. who served for two years. Dr. Lewis Martin, Sr. served from 1960 until his death in 1962. Reverend Bobby C. Buchanan served from 1965-1967. John L. Hawkins served from 1962-1972. Reverend Robert E. Sherrill served from 1973-1975, during which time a new sanctuary was constructed. Reverend Arthur J. Chisom served for one year before Pastor Sherrill returned to Pecks, serving longer than any pastor from 1976-2005. Reverend Bryan Sheehan began serving in June 2006, and the church continues to grow.